Landing pages are the key step in converting website visitors who are strangers into new leads. You give your visitors something of value, and they, in turn, give you insight into how to market to them. But how do you garner awareness for your landing pages? Let's review some best practices for landing page promotion and then take a look at several other ways to drive traffic to them.
Calls to action
Best practices:
Calls to action (CTAs) for your offer should be placed on numerous pages of your website, including the homepage, in order to help direct visitors to the next step you want them to take. They should also be included in all of your blog posts and emails, as well as in paid search ads.
Other ideas to consider:
Create anchor text CTAs
HubSpot defines an anchor text CTA as "a stand-alone line of text linked to a landing page, and it's styled as an H3 or an H4 to make it stand out from the rest of the post's body copy." And it is proving to be very successful for lead generation. Visitors are more apt to click on anchor text CTAs because they provide a link to your offer before the end of your post (just in case your reader doesn't make it all the way through) and don't look like typical CTAs, which can sometimes resemble ads. Try incorporating an anchor text CTA, like our example below, into your blog posts or emails.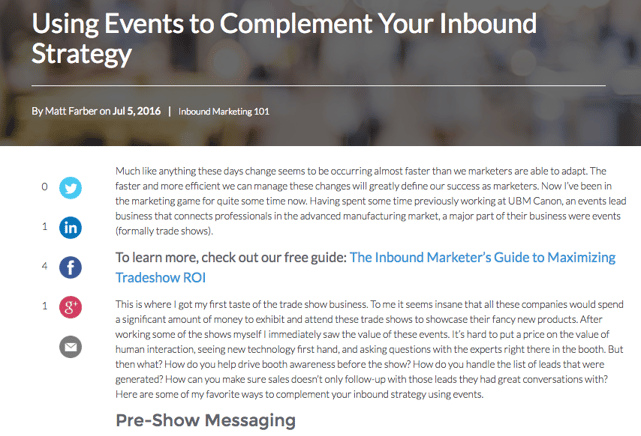 Swap out CTAs on your previously published blog posts
Don't just set it and forget it. Adding new CTAs to older posts that consist of relevant content is a simple way to increase traffic to your landing pages and, ultimately, conversions.
Do you have posts that consistently perform well? Test different CTAs on these "compounding posts" in order to get your landing page even more exposure.
Include a CTA in your email signature line
Create a more personal feel by replacing the common image CTA with a text version either in your email signature or as a postscript. It's a subtle move, but definitely worth testing in order to fight off banner blindness.
Social Media
Best Practices:
You've identified your buyer personas and know where they are active online. Now you need to promote your landing page accordingly. This may include several tweets, as well as Facebook and Google+ posts. Offers can be shared on your LinkedIn page, as well as with your related groups on LinkedIn.
Other ideas to consider:
Add a Facebook CTA
Facebook buttons allow you to add a CTA to your business profile that takes visitors directly to your landing page—and at no cost. Facebook currently offers a limited selection of button copy, but there are a few options that lend themselves to landing page promotion. With a single click, UFC GYM's "Book Now" button sends visitors to a landing page offering a free pass upon form completion.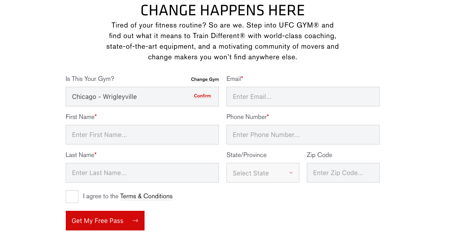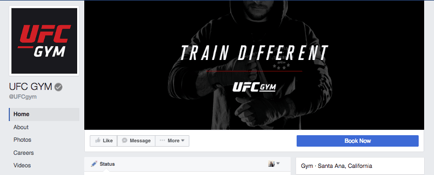 Get visual on Instagram
Similar to Facebook, an intriguing Instagram post can drive traffic to your landing page. Consider sharing an image or compelling quote from your content offer. Ever seen the term "link in bio" in the comments when perusing Instagram, like Hubspot has done in the example below? The platform only allows one link per profile, so be sure your bio is always updated with the landing page link that corresponds with your post.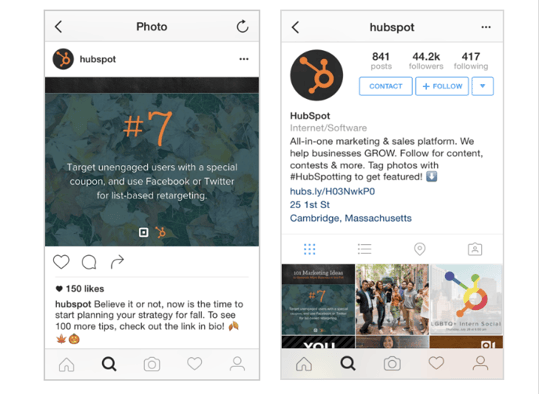 Post on LinkedIn Pulse
Pulse is LinkedIn's publishing platform and is great for sharing articles and blog posts. Author Gretchen Rubin's posts include links that encourage readers to visit her website, social accounts, and podcast. You can also take advantage of the platform in order to promote your content.Publish a chapter of your ebook with a link to read more (just make sure to keep your posts educational so that they don't come across as spammy or salesy).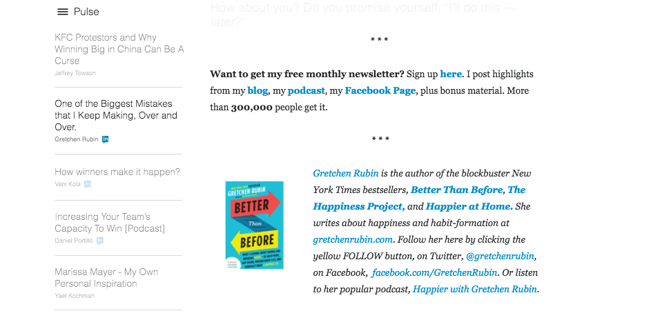 Create a SlideShare Presentation
Create a teaser for your piece of content—share snippets or entire sections of your ebook or other offer. Hook the viewer into wanting to learn more with attractive visuals and then link to your landing page within the presentation. Because SlideShare is part of LinkedIn, your presentation can easily be shared with your network and across your other social accounts, as well as be embedded on your blog.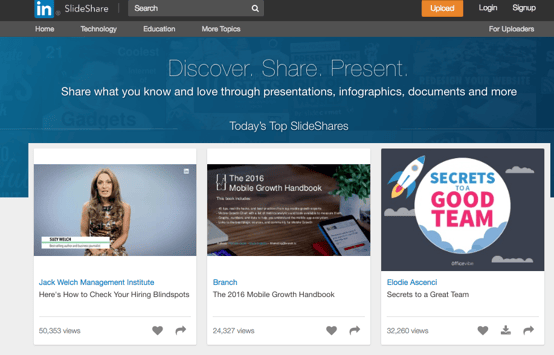 Email
Best Practices:
Email campaigns are critical to both your sales and marketing efforts. Sharing your landing pages through promotional and lead nurturing emails is considered a best practice across the board when it comes to content offer promotion.
Other ideas to consider:
Incorporate video
Spice up your standard lead nurturing email by letting a video tell the story. Embed the video on your landing page and then create a minimalistic email with a still from your video and a play button (similar to the one shown here for MDValuate's Physician Reputation Management and Referral Software). When they click, readers are directed to the landing page, complete with full video and form.
Watch the news
Newsjacking, or taking advantage of the popularity of a news story in order to boost your marketing efforts, can be a great way to generate traffic on your landing page. News stories have the power to drive people to the Internet, searching for information. Do you have a piece of content that answers questions on a timely topic? Capitalize on the opportunity by repromoting it via email. Check out this article for more on newsjacking for inbound marketers.
Promoting your landing pages is an ongoing process, and there's no one correct way. It's important to keep best practices in mind, but continue testing new ideas and measuring your success in terms of generating new leads. What works for one might not work for another, and that's okay—it's all part of the dynamic process that makes inbound both challenging and exciting.
What tactics have you used to successfully drive awareness for your landing pages?